DOI MAE SALONG DELICIOUS TEA WITH FRESH AIR.
CHIANG RAI 4 DAY 3 NIGHT
This tour starts at 8.30am. You are picked up from your hotel by Drive north of Chiang Mai to Maerim district. On The Way Stop For Butterfly Farm and Orchid Farm A large variety of beautiful butterflies are raised in a spacious garden at the Mae Sa Butterfly Farm. The farm gift shop sells framed butterfly specimens, a wide variety continuously blooming orchids and jewelry made from fresh flowers electroplated in gold."Amazing Chiang Dao cave". The Chiang Dao Caves are located 72 km north of Chiang Mai city along the way to Fang and Tha Ton and 5km west of route 107. PLEASE CLICK MORE DETAIL
Please open the map of this program
Wat Thaton (Tha Ton temple) is a 9 level Buddhist Monastery scattered up the side of a mountain behind the thiny northern town of Thaton, basically right on the Thai-Burma border. It's a tiny little out-of-the-way place that most people don't bother going to unless they're just passing through en-route to the border for a visa run. Interaction with the outside world is seriously cut off, especially when you live in the monastery, but it was definitely a kick ass experience. PLEASE CLICK MORE DETAIL
Long Necked Padong Among the unspoiled nature. The hilltribes live in harmony. Visit the village of Long Neck Karen or Padong, the beauty of women is their long neck. Also visit Lahu Shi Balah or yellow Lahu, women of this tribe have large ear loops And Akha tribe, the most beautiful women's head wares, decorated with assorted coins, shells, beats feathers and animals for Akha is originated in Kwang Jao and Yunan China. PLEASE CLICK MORE DETAIL
Doi Mae Salong After the Communists took over the mainland of China in 1949 a division of the Nationalist Chinese army fled to the Thai-Burmese border areas. Some of them were allowed to settle down on a mountain called Mae Salong in 1961. Located some 40 kilometres from Mae Chan along route 1089, the village they founded, known as Santi Khiri, soon became well known for its enchanting scenery and tranquil atmosphere. Most of the area is covered with plantations of tea, coffee and fruit trees. The scenery is especially picturesque in December and January when Thai cherry trees are in full bloom. Scattered with many hilltribe villages, Doi Mae Salong is thus a nice place for trekking. There are hotels and guesthouses to accommodate tourists and a paved road leading to the village which is about 60 km from Taton Village. (Overnight at Mae Salong Resort) PLEASE CLICK MORE DETAIL
DOI TUNG SWITZERLAND OF THAILAND Mae Fah Luang Garden (Doi tung) The Royal Villa overlooks 25 rai (equivalent to four hectares) of botanical gardens known collectively as The Mae Fah Luang Garden. Situated at an elevation of 950 metres above sea-level, the Mae Fah Luang Garden consists of flowerbeds planted with a dazzling variety of flowers and shrubs from all corners of the world; among these, over 70 species of cool climate and temperate ornamental and flowering plants that thrive at high altitude are planted in the midst of native plants, leafy shrubs and perennials. A myriad of flowering plants come into bloom all year round and form a splendid hill-side tapestry that changes with the seasons. PLEASE CLICK MORE DETAIL
Tham Pla (Fish Cave) Monkey and fish cave Tham Pla is located in Pong Ngam village of Mae Sai. It is easy to go there by taking High Way No. 10 from Mae Chan – Mae Sai and turn left at Ban Tham Market. At Ban Tham Market there is a sign of Wat Tham Pla then follow the direction. Wat Tham Pla is at the other end of this road. PLEASE CLICK MORE DETAIL >> After that driving to Mae Sai.
Mae Sai farthest northern town on the Thai – Myanmar a border This is the northernmost spot in Thailand. In fact, there is a sign to the right of this bridge that says just that and you can have your picture taken underneath it. There is a lot of cross-border activity going on here with markets on both sides. (Night 2 at Mae Sai) Passport For those who already have got Laos?and Myanmar? Visa can travel everywhere in both country for 15-30 days. Lunch at local restaurant. PLEASE CLICK MORE DETAIL >>
Day 2 Then driving on to the Golden Triangle Where the border of Thailand, Myanmar and Laos meet at Sob Ruak River to Mae Khong River forming the Triangle between the tree countries. Then Visit the Opium museum Return to the hotel. After that take a short drive to Chiang Saen the ancient city the first thai settlement ruins of 14th century by the Maekhong River. And Chiang Saen Nearby Chiang Saen features some ancient, unspoilt temples, including Wat Pa Sak, dating from 1295, where you can see a vast stupa surrounded by smaller temples and chedis. Arrive ChiangMai aroud 7.00 pm). PLEASE CLICK MORE DETAIL >>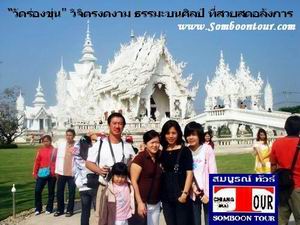 Wat Rong Khun is different from any other temple in Thailand, as its ubosot (Pali: uposatha; consecrated assembly hall) is designed in white color with some use of white glass. The white color stands for Lord Buddha's purity; the white glass stands for Lord Buddha's wisdom that "shines brightly all over the Earth and the Universe."
The bridge leading to the temple represents the crossing over from the cycle of rebirth to the Abode of Buddha. The small semicircle before the bridge stands for the human world. The big circle with fangs is the mouth of Rahu, meaning impurities in the mind, a representation of hell or suffering.
All the paintings inside the ubosot (assembly hall) have golden tones. The four walls, ceiling and floor contain paintings showing an escape from the defilements of temptation to reach a supramundane state. On the roof, there are four kinds of animals representing earth, water, wind and fire. The elephant stands for the earth; the naga stands for water; the swan's wings represent wind; and the lion's mane represents fire.
In 1997, Chalermchai Kositpipat volunteered his service to carry out the construction of the ubosot at his own expense as an offering to Lord Buddha, but he later altered the plan as he saw fit in such a way that Wat Rong Khun developed into a prominent site attracting both Thai and foreign visitors.
You should travel with the only licensed tourism company to get the lawful protection.
TOURS PRICE
CODE CRT 004: 4DAY 3NIGHT::
ONE DAY PRIVATE TOUR
15,000 Baht /1 car. "Car Adventure. " air condition service with a driver who has expertise in the path: for 2-6 person rental with driver. (including fuel and insurance).
17,000 Baht / 1 van. "VIP style D4D" air condition service with a driver who has expertise in the path: for 4-11 person rental with driver. (including fuel and insurance).
Price Includes: Insurance Covered, English speaking local driver, Gasoline.
Price does not include: Enjoy the boat ride to view the splendor of mighty Mae Khong River.
Transport to and from your Chiang Mai Hotel. Transfer back to your Chiang Mai Hotel (Daily: 8.00 am - 7.00 pm).
SOMBOON TOUR CHIANG MAI
TAT License No. 23 / 0298
Tourism Authority of Thailand
Tel. In thailand
08 1980 3221, 08 1111 1176
Office & Fax 053 818 067
Tel. International +66 8 1980 3221
If you would like to go on a private trek or if you have your own group then please just E-mail us.
Note: This information was accurate when it was published, Please be sure to confirm all rates and details directly with the companies in question before planning your trip.
PAYMENTS TOURS
BANK TRANSFER
Name:
Mrs. Mantana Kuykeaw
Bangkok Bank Public Co.,Ltd.
Chang Klan Road Branch, Chiang Mai Thailand.
Savings account No.
423 056 816 6