POPULAR TOURS
WAT RONG KHUN
2 DAY 1 NIGHT
Commences: Chiang Rai, Thailand

Please open the map of this program
Chiang Rai Popular Tours? Population consists of many groups of racial such as Tai Yai,Tai Lue,Tai Khern,Tai Yuan. In the early of 2000 A.D. many hill tribes moved from China and settled their village in many places of Chiangrai. The last group of racial that moved in Chiangrai is the 93rd Chinese Nationalist Battalion.Departure from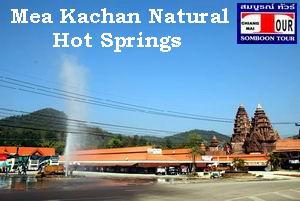 Day 1 Chiang Mai, drive to visit Mea Kachan Natural Hot Springs Our first stop was to Pong Num Ron Hot Spring or The Mae Kachan Hot Springs are located just a kilometre north of the Chiang Mai-Chiang Rai road turnoff. Here you will see lots of tribal people with baskets of eggs. You could either purchase your our basket of eggs and cook it yourself or have those already cooked and just fish out from the hot spring well. This is a natural hot spring and you could head down to the stream and touch the hot spring water. Some even went for a dip in the hot spring.There are a range of shops, cafes and spa baths available.
Chiang Rai City Chiang Rai, which was founded in 1262 by King Meng Rai, was the first capital of the Lanna Thai Kingdom (Kingdom of a million rice fields), which was later conquered by Burma. It was not until 1786 that Chiang Rai became a Thai territory and was proclaimed a province during the reign of King Rama VI in 1910.
Today, Chiang Rai is a travelers paradise endowed with abundant natural tourist attractions and antiquities; the province itself is evidence of past civilization. Attractions range from magnificent mountain scenery, ruins of ancient settlements, historic sites, Buddhist shrines and ethnic villages as the province is also home to several hill tribes who maintain fascinating lifestyles. For those interested in the natural side of Chiang Rai, jungle trekking is recommended along various trails. Chiang Rai which tends to be a little more 'laid back' now competes with Chiang Mai as a tourist attraction and is fast becoming a popular escape for tourists wanting to get away from the troubles they left behind.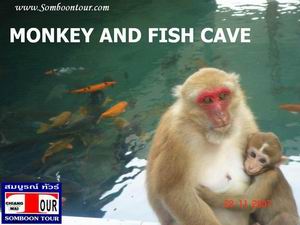 Tham Pla (Fish Cave) Monkey and fish cave Tham Pla is located in Pong Ngam village of Mae Sai. It is easy to go there by taking High Way No. 10 from Mae Chan – Mae Sai and turn left at Ban Tham Market. At Ban Tham Market there is a sign of Wat Tham Pla then follow the direction. Wat Tham Pla is at the other end of this road. PLEASE CLICK MORE DETAIL >> After that driving to Mae Sai.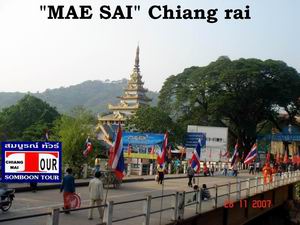 Mae Sai farthest northern town on the Thai – Myanmar a border This is the northernmost spot in Thailand. In fact, there is a sign to the right of this bridge that says just that and you can have your picture taken underneath it. There is a lot of cross-border activity going on here with markets on both sides.
Passport For those who already have got Laos?and Myanmar? Visa can travel everywhere in both country for 15-30 days. Lunch at local restaurant. PLEASE CLICK MORE DETAIL >>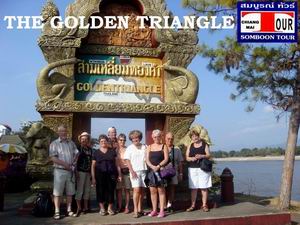 Day 2 Then driving on to the Golden Triangle Where the border of Thailand, Myanmar and Laos meet at Sob Ruak River to Mae Khong River forming the Triangle between the tree countries. Then Visit the Opium museum Return to the hotel
. After that take a short drive to Chiang Saen the ancient city the first thai settlement ruins of 14th century by the Maekhong River. PLEASE CLICK MORE DETAIL >>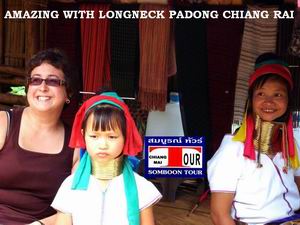 Long Necked Padong visit amazing with Longneck Padong people. The land of the giraffe women as polish explorer Vitold De Golist called it. Lies in Eastern Burma Plateau dimpled by terraced, paddy-filled valley. Here lives padang, a tribe of about 7000 members. Legend claims that the brass rings portect the women fromtiger bites. But actually the practice of waring them helps main tain individual and tribal indentity. Rings worn on arms and legs may weigh a woman down with and additional 30 pounds of brass. Since leg coils hamper walking. the women waddle. Constrained from drinking in the usual heak-back position, a ring wearer leans forward to sip though a straw. And the voices of wearer, wrote British jouralist, sound " as if they were speaking up the shaft of a well" PLEASE CLICK MORE DETAIL >>
Wat Rong Khun Rong Khun village where is about 10 km south of Chiangrai city and only slightly off the super highway. It is designed by the national artist name Mr. Chalermchai Kositpipat. The main temple building or Ubosot is a distinctive white color and decorated with fragments of reflective glass and can be seen from afar. Painting and murals inside the temple are also very beautiful.Arrive ChiangMai aroud 7.00 pm).
You should travel with the only licensed tourism company to get the lawful protection.
TOURS PRICE
CODE CRT 003: 2DAY 1NIGHT:
2 DAY PRIVATE TOUR
7,000 Baht /1 car. "Car Adventure. " air condition service with a driver who has expertise in the path: for 2-6 person rental with driver. (including fuel and insurance).
8,000 Baht / 1 van. "VIP style D4D" air condition service with a driver who has expertise in the path: for 4-11 person rental with driver. (including fuel and insurance).
Price Includes: Insurance Covered, English speaking local driver, Gasoline.
Price does not include: Enjoy the boat ride to view the splendor of mighty Mae Khong River.
Transport to and from your Chiang Mai Hotel
. Transfer back to your Chiang Mai Hotel (Daily: 8.00 am - 7.00 pm).
SOMBOON TOUR CHIANG MAI
TAT License No. 23 / 0298
Tourism Authority of Thailand
Tel. In thailand
08 1980 3221, 08 1111 1176
Office & Fax 053 818 067
Tel. International +66 8 1980 3221
If you would like to go on a private trek or if you have your own group then please just E-mail us.
Note: This information was accurate when it was published, Please be sure to confirm all rates and details directly with the companies in question before planning your trip.
PAYMENTS TOURS
BANK TRANSFER
Name:
Ms. Mantana Kuykeaw
Bangkok Bank Public Co.,Ltd.
Chang Klan Road Branch, Chiang Mai Thailand.
Savings account No.
423 056 816 6