TREK 3 DAYS 2 NIGHT
(MAE TAENG AREA)
Most Highly Recommended Tour
HILL TRIBE ECO TREK
A true grassroots adventure Our eco-friendly non-intrusive trek will give you a true insight into the way in which hill tribe people live in harmony with nature.
As part of a small group (6-12 people) you will be guided through beautiful mountain Scenery and dense jungle to remote villages. There you will learn about hill tribe culture and customs without intruding on the local way of life. You will be taught how to create cooking utensils out of natural resources then shown how to make delicious organic meals.
Your few days away from civilization will be spent simply.
Also you again a true appreciation of the local environment
Day1 9:30 a.m. Pick-up from your Hotel. Then take a pick-up truck and travel northwest of Chiang Mai for 1 hour. Shop in the Market for some supplies and being introduced to Thai herbs and cooking ingredients. Take off the highway for more 1 Hours to Shan village and have lunch. After,3 hours hike to Lahu village where you will stay overnight with headman family. You will be introduced to some of our local friends and wander around the village. Evening, you can enjoy Hilltribe dance.
Day 2 After breakfast, hiking for 2 Hours to see the Karen village hanging around, then another 30 minutes to the beautiful Waterfall. Enjoy swimming and have lunch there. After lunch, an exiting treks along the stream to the Elephant camp. Our Elephant Taxi will take us from the Jungle to the Camp Fire on the Riverside, enjoy swimming. Have a nice evening.
Day 3 After breakfast, having a big fun on the white water Rubber Boat trip along tough rapid river for 1 Hour. Then another 1 ½ Hours on the Bamboo Rafting trip to the end and have lunch at the Shan village. The pick-up truck will take us to the Akha village, wondering around. Drive back to Chiang Mai, arriving around 4 - 4:30 p.m.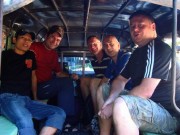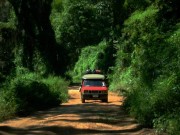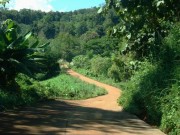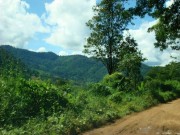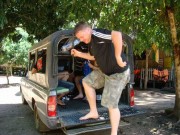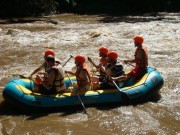 Includes

:

Accommodation, Transportation, Qualified Guide
Food from first day lunch to the last day lunch, tea, coffee
Rucksack, sleeping bag, safe storage for belongings and valuables,
Bamboo raft and elephant ride.
Water, Soft drink and alcohol are not included.
Medical insurance covers hospital treatment only to 10,000 Baht.
Please attend the meeting in the evening before 6 P.M.
Treks are a minimum of 6 and 8 minimum of 12 people.

-------------------------------------------

GROUP TOUR 1500 ß/ person

A Children under 8 years old will be given half price. Itinerary 8:30 - 9:30 a.m. Pick-up from hotel or guest-house by pick-up truck. Back to Chiang Mai where you will arrive at about 17:00h.

You should travel with the only licensed tourism company to get the lawful protection.

SOMBOONTOUR CHIANGMAI

TAT License No. 23 / 0298
Tourism Authority of Thailand

Tel. +66 8 1980 3221, 08 1111 1200

Office & Fax

(053) 818 067, 08 1111 1176
ÀÒÉÒä·Â THAI VERSION