TREK 2 DAYS 1 NIGHT
LONG-NECK WOMEN
WE DO THIS TREKKING TOUR EVERY DAY.
You can join a tour group any day. We guarantee, that we have a place for you, whether you come alone or with several other persons.
This trek is designed for people who stay only a few days in Chiang Mai and do not have time to take part in our 3 days trek.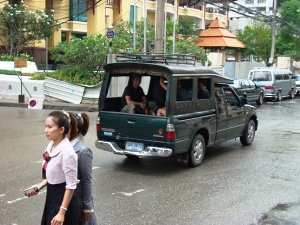 Pick-up from your Hotel. Take off the highway for more 1 Hours to Shan village and have lunch. After,3 hours hike to Lahu village where you will stay overnight with headman family. You will be introduced to some of our local friends and wander around the village. Evening, you can enjoy Hilltribe dance.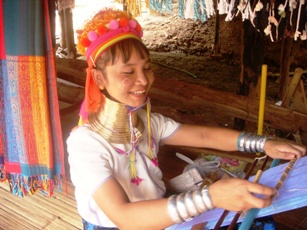 Day2 After breakfast, we will trek through dense jungle for approx 1 Hour to Waterfall and another Hour to Elephant camp. Then, ride on an elephant for 1 Hours to Raft camp and have lunch there. After lunch we will enjoy the time with Karen Long-neck and jump on the Bamboo Rafting for another 1 Hour. Then pick-up truck will take us to visit Akha village and back to Chiang Mai, arriving around 5:00 p.m
INCLUDED ARE:
= Elephant riding 1h
=Bamboo rafting 1h
=Waterfall
=Optional: Karen Long-neck
*Jungle walks of 3h, 1h Overnight stay near a Meo village Visit of a local market Shan (Tai Yai)hilltribe village.
=Trekking guides and porters
=Meals, tea, coffee
=A small sleeping bag
=A small backpack
=Accident insurance
=Safe place to leave your luggage during the trek
Please provide a copy of your passport (identification page, for the insurance).
You should travel with the only licensed tourism company to get the lawful protection.
TAT License No. 23 / 0298
Tourism Authority of Thailand
TOURS PRICE Code : CCT 005
**3 DAYS 2 NIGHT TREK
**JOIN GROUP TOUR ONLY
**PRICE 1,500 BAHT/ PERSON
A Children under 8 years old will be given half price.
Itinerary 8:30 - 9:30 a.m. : Pick-up from hotel or guest-house Transfer by local truck. Back to Chiang Mai where you will arrive at about 17:00h.
SOMBOON TOUR CHIANG MAI
Tel. In thailand
08 1980 3221, 08 1111 1176
Office & Fax 053 818 067
Tel. International +66 8 1980 3221
If you would like to go on a private trek or if you have your own group then please just E-mail us.
Email
Note: This information was accurate when it was published, Please be sure to confirm all rates and details directly with the companies in question before planning your trip.
PAYMENTS TOURS
BANK TRANSFER
Name: Ms. Mantana Kuykeaw
.Bangkok Bank Public Co.,Ltd.
Chang Klan Road Branch, Chiang Mai Thailand.
Savings account No
423 056 816 6
23/4 CHAROENPRATHET ROAD (OPPOSITE) PORNPING TOWER CHIANG MAI THAILAND 50100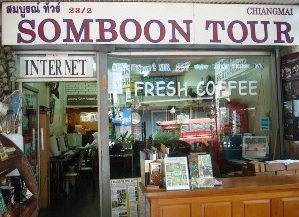 Office... Somboon tour Chiangmai Thailand
INTERNET- SCAN PICTURE -TOURS - FRESH COFFEE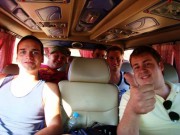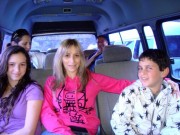 Thailand Tours with Happy Time and Nice Driver of Somboon Tour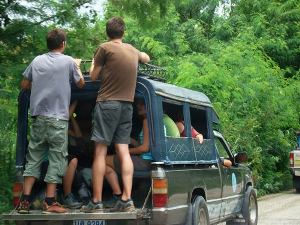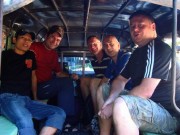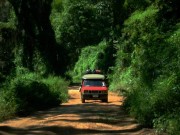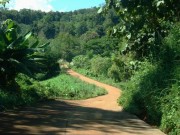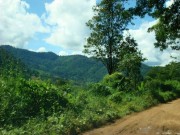 ภาษาไทย THAI VERSION