LAMPANG & LAMPHUN
ONE DAY
This tour starts at 8.00am. You are picked up from your hotel.
Elephant Conservation Centre & Lampang
Drive south of Chiang Mai towards Lampang. First stop is the Elephant Conservation Centre (approx. 1.20hr.) 70 kms from Chiang Mai. At the elephant centre you will see the elephants taking their early morning bath and then demonstrating what they can do. Mostly demonstrated is the skills the elephants have used in the logging industry in the past as well as other skills that show us how amazingly intelligent they are.This centre does a lot of good work in supporting and caring for elephants that have been orphaned, injured or donated.
ELEPHANT RIDES AND ELEPHANT SHOWS
The TECC presents the only eco-friendly show in Thailand, just as elephant traditionally worked in our forests. Our announcers have extensive knowledge and describe every aspect of our fascinating elephant show. We have a strong commitment to the humane treatment of our elephants and we are devoted to their well-being. You can also take a ride on an elephant`s back around our beautiful natural areas. Rides are available everyday from 8:00 a.m. to 3:30 p.m. The Center is open to the public daily with two shows daily from Monday to Friday at 10:00 a.m. and 11:00 a.m. Weekends and holidays there is a third show at 1:30 p.m. Elephant bathing is at 9:45 a.m. everyday.

Afterwards take an elephant ride around the grounds of the centre. Continue driving to Wat Phrathat Lampang Luang (approx. 30kms).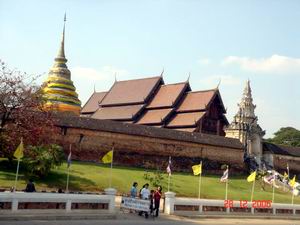 The most impressive site is Wat Phra That Lampang Luang. This was one of the four wiangs and the site of numerous battles. It became a Burmese garrison in 1729. The Vihan was originally constructed in the 13th C and rebuilt in 1802 and the Chedi was enlarged in 1449 and 1496. Both are spectacular and are set in a walled wiang, high on an earthen mount of medieval appearance. The Lan Na art and architecture is outstanding and the fortification remains of three ramparts and two moats are impressive.
Is one of the North's finest. To the left of the chedi is a Vihara with a carved wood facade and double - level roofs. Harmonious proportions and exquisite interior decoration make Wat Lampang Luang one of the best examples of Northern - style religious architecture.
Drive back to Lamphun Thailand's Oldest City