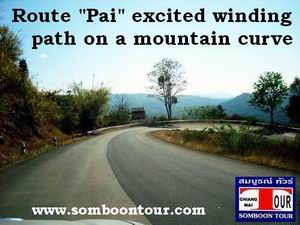 Pai Mae Hong Son Pai is a town in Mae Hong Son Province, west of the town of Mae Hong Son. Thailand's second northernmost provincial capital, Pai is a small community, embraced by rolling mountains and enveloped in natural setting that is fresh and beautiful. The atmosphere is clean, pure, quiet and warmly welcoming. The different ethnic groups, religious beliefs and languages of the people of plains and the people of the mountains have blended together here to form a unique set of cultural traditions.
The citizens of Pai live their lives with a spirit of generosity and a sense of community, always ready to give someone a helping hand. Yet at the same time, the remoteness of the region makes travel to and from Pai difficult. Many people would rather not come and risk their chances in such an isolated place. However, many other people entrust their luck to fate in this very spot, and others dream of having just one chance in their lives to come and experience the summit of the north of Thailand.
Tourist attractions in Pai district: Fa Waterfall, Pong Dueat Hot Spring Huai Nam Dang National Park, Doi Gew Lom Viewpoint, Doi Chang Viewpoint, Pai Canyon, World War II Memorial Bridge, Tha Pai Hot Springs, Mae Yen temple, Luang Temple, Klang Temple, Wat Nam Hoo, Mo Paeng Waterfall, Ban Mai Sahapan ( Lisu Village)
Day 1: Transport to and from your Chiang Mai Hotel. 8.00 am. by Car, Located on Highway No 1095: Mae Malai-Pai. First, drive to the Mok Fa Waterfall (Namtok Mok Fa) This one-level waterfall is located on the Mae Malai-Pai road. To get there, take a left turn at Km. 20 onto a dirt road and proceed for 2 kilometers. The waterfall, which is surrounded with lush green trees, is full of water all year round.
Pong Dueat Hot Spring If you are in your own vehicle you need to take route 1095 to kilometre 42 until you reach a road that leads to Pong Dueat Hot Springs. However, it is possible to get on a tour from Mae Hong Son that takes you to the site and this is probably the most effective way to approach a visit.
This is really quite an impressive place to visit. There aren't that many places in the world with hot springs and Mae Hong Son is one of them, so if you are in the area, make the most of it! Set in thick forest, Pong Dueat Hot Springs comprises 3-4 geysers (with water bursts that shoot 2-4 metres into the air) alongside a number of smaller springs. The temperature of the water reaches 99 degree centigrade.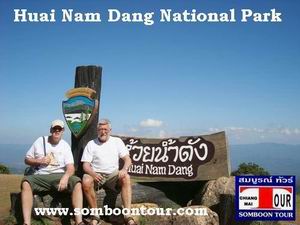 Huai Nam Dang National Park Located on the joint border between Mae Taeng District of Chiang Mai and Pai District of Mae Hong Son. Total area covers 179.5 sq.kms Here the scenery is beautiful, especially the sea of flying mist in the morning. Many tourists like to come and pitch tents (there is minor charges for pitching tents), tasting the cold weather at the top of these high mountains whilst awaiting the dawn mists.
Interesting places are: Doi Kiew Lom Viewpoint
On the top of the hill, one can enjoy a panoramic scenery, stretching up to Doi Luang Chiang Dao. The view is very beautiful, especially in the morning, when the flying mist fills the whole valley, revealing just a sharp top of Doi Luang Chiang Dao. Be there and imagine how beautiful it would be. Doi Chang Viewpoint The highest spot of Huay Nam Dang National Park. Here is the origin of several waterfalls. Located in the north of Ban Huay Nam Dang, there is a famous viewpoint in the morning. You can look around a sea of mist and mountainous scenery, stretching away for about 20 kilometers. The route is still a laterite one.
Pai Canyon It is hight eroding cliff just like Pa Muang Pee in Phrae Province, which is a large area around 8,000 aquare meters connected the way Maemalai-Pai. Along highway 1095 before reaching the World War II Menorial Bridge, there is a road sign to Pai Canyon on your left. Pai Canyon or Kong Lan is another interesting tourist attraction in Pai. The steep cliff has been eroded for a long time ago, creating the 20 meter-deep valley amidst the scenic settings of the red hill of dry dipterocarp and pine forest. It is best to visit this place in early morning or late evening, because in the afternoon the area could be extremely hot.
Pai and World War II The World War II Memorial Bridge was a historical construsction built since the world War II periiod. In order to transport troops and equipment via Thailand to Burma, the Japanese army needed not only that piece of railway in Kanchanaburi, but also the route from Chiang Mai via Pai and Mae Hong Son into Burma. Siam had been under high pressure from Japan (military and otherwise) and was finally forced by the Japanese to sign a pact of alliance with the Japanese empire and declare war on The United States of America and Great Britain. The Thai ambassador to the US refused to hand out the war declaration, which spared Thailand from reparation payments to the US later, but Thailand did have to pay 1.5 million tons of rice as reparation to the British empire. With the help of Northern Thai villagers, who, it is said, were paid generously by the Japanese, the already existing "road" was improved and bridges were built. A wood and steel bridge built by the Japanese still stands about 10 km from Pai on the road to Chiang Mai, just parallel to the bridge later built in the course of more recent road improvement projects by the Thai government. As it turned out, just about when the Japanese supply-line reached Burma, the war was over. Needless to say, after the war, the local villagers took advantage of the improved road, although it still took them at least two days to make the one-way trip from Pai to Chiang Mai.
Tha Pai Hot Springs Tha Pai Hot Springs Count Pai District among one of the few places in Thailand whose unique topography – including caves, limestone cliffs, waterfalls and hot springs – make it a worthy destination for nature tourism. Tha Pai Hot Springs in particular have always been a major public service and attraction to both locals and tourists who stop by any time of year for a bath or a long soak any time of year. A hot mineral bath is especially welcome in the cool season when local temperatures fall precipitously at night and in the early mornings.Tha Pai Hot Springs Tha Pai Hot Springs are part of a national park just 8 kms south of Pai. There is a stream running through the hot springs and you can choose either to bathe in the river or in bathtubs that have been built on the site. You can get to the springs by foot, bicycle, motorbike or car.
Mae Yen temple Mae Yen temple is located halfway up a mountain and once you have climbed the 350 steps to get there the views over the valley are tremendous, covering a radius of around 10kms. There is an interesting old chedi at the temple and also murals that were painted by a local artist about the previous lives of the Buddha.
Klang Temple Klang Temple The chedi at Klang temple represents a mixture of Shan and northern Thai styles. The base up to the middle is Shan style and the middle to the top is northern Thai. There are alcoves set in the sides to represent the different Buddha images for each weekday. After that drive straight to Pai town. Stay overnight at Resort Pai. PLEASE CLICK MORE RESORT IN PAI
The Muslim shop In this relatively small corner lot they have stuffed everything you could possibly imagine that you might want. Then there's the "Muslim bakery:" where the Muslims bake chocolate-filled croissants, apple strudel, and other confections every day. The Muslim bakery, like Aoy bakery, is a daily hangout for many local expats. You can sit and eat a pastry while you drink chai tea, a thick, somewhat sweet, milky tea which is very popular in Pai. The Muslim Bakery also offers a selection of odd organic items such as goat's milk from local farms.
Day 2: 8.30 am. Breakfast and check out continue driving to Day Market The busy afternoon market, where everyone buys their fresh food supplies for that night's cooking, takes over the sidewalk along a 200 meter long section of road near the bank:
There's a whole spectrum of foods from raw ingredients (fresh cut greens like kale or morning glory, garlic, tomatoes, tofu chunks, endless fruit varieties, thai peppers, and other supplies) to ready-to-eat snacks catering towards the gawking farang tourists. Akha, Lisu, and other minority hill tribe women also sell their clothing and jewelry on the sidewalk along with the food vendors.
Vendors in Pai make delicious north-eastern style barbecued chicken (gai yaang) and northern-style pork sausages. There's even a shop in town specializing in "som tam," the famous north-eastern papaya salad. At rolling stands like this, you can pay 30 B (78 cents) for a complete meal of chicken and sticky rice
Luang Temple Luang temple has a beautiful Shan style chedi, which was built in 1899 and also has a Shan style sermon hall and Buddha image. Luang temple is the main temple of Pai and is where many of the town's important festivals take place.
Wat Nam Hoo Located around 3 kilometers westward of Pai administrative office, Wat Nam Hoo is another ancient temple of this town. It is a place where a famous Buddha image called Lunag Po Une Muang is situated. This image is 30 inches high and 24 incghes wide. It is cast in bronze for more than 500 years now. Since the bun of the image could be opened and is always full of water, it has become a very respected image for Pai people
Mo Paeng Waterfall (We'll take time for swimming). Located at Ban Mo Paeng. Only 9 kilometers away from Pai towm. MoPaeng Waterfull is one of the most Favorite attractions in Pai district. To get there, take highway 1095 in the direction to Mae Hong Son town, Turn left at the kilometer marker 102 until you fine Yapo village. Drive further for around 500 meters and you will find the parking lots at the end ot this amall road. The waterfall is on your right. Actually Mo Paeng Waterfall's beauty is second to Mae Yen Waterfall's but is much easier to get to this fall. Mo Paeng Waterfall. Is a 10- meter-winde and 15-meter-hihg waterfall. The ponds below are pretty large and safe for swimming. Although the waterfall could be visited all years, there will be water most in reiny season.
Ban Mai Sahapan ( Lisu Village) Mae Hong son is a province with people from various hilltribes. Lisu (or lee-Sor) is one of the small tribes that can still preserve their cuture and identity very well. In order to visit this villge, you can start the journey at Pai Hospital. This village is located only 3 kilometers away from Pai town. There tourists are free to see Lisu People's lifestyle and buy some souvenirs, such as textiles, silverware, as well as agricultural products. PLEASE CLICK MORE RESORT IN PAI