Commences: Mae Hong Son. Thailand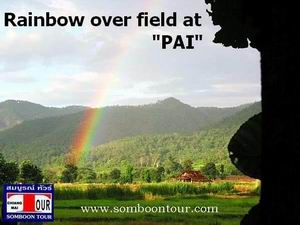 Pai Mae Hong Son Pai is a town in Mae Hong Son Province, west of the town of Mae Hong Son. Thailand's second northernmost provincial capital, is sheltered by several high mountains and enjoys a cool climate almost all year round. Maehongson is known for its charm of scenery and culture. The people of Mae hong son consists of the Shans who live in the city and the hilltribe people who live in remote villages on mountain tops where elements of lifestyle have changed little in hundreds of years.
Mok Fa Waterfall Mok Fa Waterfall is in the area of Doi Suthep-Doi Pui National Park. Located on Highway No 1095: Mae Malai-Pai. From Chiang Mai.
Pong Dueat Hot Spring Pong Duad Pa Pae Located in Mae Taeng District, 40 kms off Chiangmai. 35 kms from the Highway Route No 1095: Mae Malai-Pai and turn right for 6.5 kms. Pong Dueat Hot Spring This is a geyser type hot spring which rises up 2 metres high. It is the highest hot spring of Thailand.
Huai Nam Dang National Park Huai Nam Dang National Park Pai-Mae Malai route (No.1095), there is a turning leading to the headquarters of the Huai Nam Dang National Park. Visitors can spend the night in tents to wait for the spectacular views of sunrise and mist-shrouded mountain views in the morning. Cherry blossom during January adds charms to the attraction. Huai Nam Dang National Park covers four districts : Mae Taeng, Chiang Dao, and Wiang Haeng in Chiang Mai province including Pai district in Mae Hong Son province, covering an area of approximately 1,247 square kilometres. Later on it was designated as the National Park for commemorating 100th year establishment of the Royal Forest Department and also for the celebration of His Majesty the King's 50th year on the throne. Flora and Fauna
The healthy natural condition of Huai Nam Dang National Park is a matrix of highly diverse habitat types. Main plants found in this park are Hopea sp., Dipterocarpus spp., Tectona grandis (Teak), Pterocarpus macrocarpus, Michelia floribunda, Pinus kesiya, Pinus merkusii, and orchids especially, Dendrobium infundibulum which charmingly blooms during January to March. Many wild animals dwelling in this richest forest are elephants and some rare animals such as Salamanders.
Doi Gew Lom Viewpoint this viewpoint is well-know among Thai and foreign visitors who come here to see a spectacular sea of mist collects in the valley as well as various types of colourful flowers. Beside, this place situates Silver Orchids Palace, the palace of Her Royal Highness Princess Galyani Vadhana. Moreover, there are two nature trails: Ueang Ngoen Nature Trail and Chom Doi Nature Trail. Each trail covers a distance of approximately 1.5 kilometers. Doi Chang Viewpoint this highest viewpoint offers delightful view of orchid hanging from trees branch or trees top. This place deserves to be a source for nature study. It is in the north of Doi Gew Lom Viewpoint.

Pai Canyon or Kong Lan Along highway 1095 before reaching the World War II Menorial Bridge, there is a road sign to Pai Canyon on your left. Pai Canyon or Kong Lan is another interesting tourist attraction in Pai. The steep cliff has been eroded for a long time ago, creating the 20 meter-deep valley amidst the scenic settings of the red hill of dry dipterocarp and pine forest. It is best to visit this place in early morning or late evening, because in the afternoon the area could be extremely hot.
World War II Memorial Bridge The World War II Memorial Bridge is located at the kilometer marker 88 on highway 1095 (Mae Malai-Pai Road). This bridge was built in 19424, during the World War II. At that time the Japanese troops chose Pai to be their military base since Pai was completely surrounded by mountains and rivers, and therefore served as a very advantageous spot. So a bridge made of rion over the river was constructed in order to transport weapons and provisions to Myanmar. Although this bridge was only nearly complete when the war was over, it has become one of many fascinating tourist attractions of Pai.
Luang Temple
Luang temple has a beautiful Shan style chedi, which was built in 1899 and also has a Shan style sermon hall and Buddha image. Luang temple is the main temple of Pai and is where many of the town's important festivals take place.
Klang Temple Klang Temple The chedi at Klang temple represents a mixture of Shan and northern Thai styles. The base up to the middle is Shan style and the middle to the top is northern Thai. There are alcoves set in the sides to represent the different Buddha images for each weekday.

You should travel with the only licensed tourism company to get the lawful protection.
TAT License No. 23 / 0298
Tourism Authority of Thailand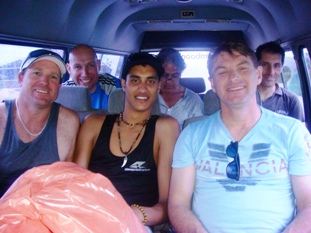 TOURS PRICE Code :Tmh 001

"PAI ONE DAY TOUR"
PRIVATE TOUR Rent a car & van with driver : Insurance Covered, English speaking local driver, Gasoline Includes.
Four wheel drive 4,000baht per 1 car "Car Adventure. " air condition service with a driver who has expertise in the path: for 2-6 person rental with driver. (including fuel and insurance).

Van D4D 4,500bath per 1 van "VIP style D4D" air condition service with a driver who has expertise in the path: for 4-11 person rental with driver. (including fuel and insurance).
Price Includes: Insurance Covered, English speaking local driver, Gasoline.
Transport to and from your Chiang Mai Hotel. Transfer back to your Chiang Mai Hotel (Daily: 7.00 am - 7.00 pm).
SOMBOON TOUR CHIANG MAI
Tel. In thailand
08 1980 3221, 08 1111 1176
Office & Fax 053 818 067
Tel. International +66 8 1980 3221
If you would like to go on a private trek or if you have your own group then please just E-mail us.
Email
Note: This information was accurate when it was published, Please be sure to confirm all rates and details directly with the companies in question before planning your trip.
PAYMENTS TOURS
BANK TRANSFER
Name: Ms. Mantana Kuykeaw
.Bangkok Bank Public Co.,Ltd.
Chang Klan Road Branch, Chiang Mai Thailand.
Savings account No
423 056 816 6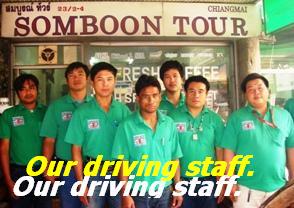 Travel in Chiang Mai.
A tour to A Local People.
To the Somboontour Chiang Mai.
Mr. Preecha Srisawat (Somboon) I was born in Chiang Mai. I am proud to offer our services to people with experience in local driving tour route and ensure the safety of everyone.
Thailand Tour with Happy Time and Nice Driver at Somboon Tour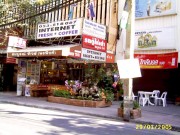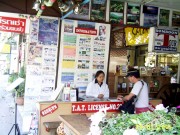 INTERNET- SCAN PICTURE -TOURS - FRESH COFFEE
23/4 CHAROENPRATHET ROAD (OPPOSITE) PORNPING TOWER CHIANGMAI THAILAND 50100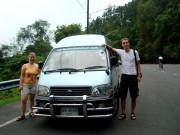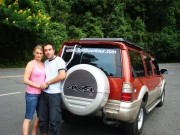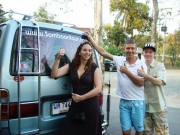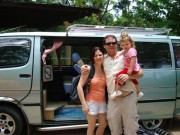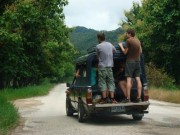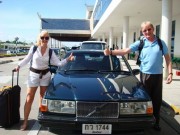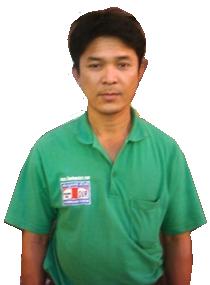 Mr.Chet ta Kan (you) Lhemnumchai
English speaking local driver of somboon tour
Good Driver of Somboon Tour Chiang mai
For taxi ÊÁºÙóì·ÑÇÃì (˹éÒâçáÃÁ¾Ã¾Ô§¤ì)¨.àªÕ§ãËÁè
THANK YOU FOR USING
ÀÒÉÒä·Â

THAI VERSION