TREKKING 2 DAYS 1 NIGHT TREK IN SAMOENG-MAEWANG AREA AREA
Get out into the unspoilt jungle in the less trekked Samoeng area. Get to see this beautiful area south east of Chiang Mai while trekking through Shan, Hmong and Karen hill tribe villages. Overnight at a Karen hill tribe village. Finish off the final day with Elephant riding and the famous Chiang Mai bamboo rafting. This is an excellent way to make the most of two days while in the Chiang Mai area.
Duration: 2 Days 1 Night Type: Join in group
Highlights: Jungle trek, overnight in a Karen village, waterfall, elephant riding, bamboo rafting
Starts in: Chiang Mai
Finishes in: Chiang Mai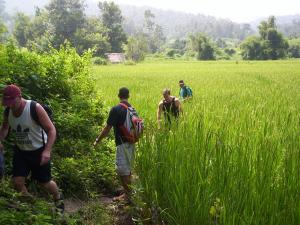 Day 1 You will be collected from your Chiang mai hotel or guest house and we will proceed to drive towards the Samoeng –Maewang area. On route we will stop at the local market where the guide will buy some fresh supplies for the trip into the hills. The drive will continue to the Jungle where we will start of the trek to the Waterfall take lunch and commence then further into the hills.Afternoon will be spent trekking in to the jungle to our first night accommodation in a WhiteKaren village. You can spend late afternoon and evening in the village and kick back and relax after the days trek. Your guide will prepare your evening meal and you can spend the rest of the evening relaxing with your fellow trekkers over a few drinks.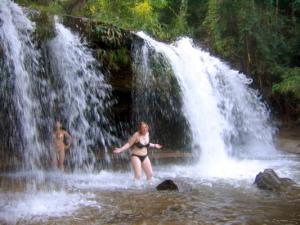 Day 2
The local roosters will usually ensure that you arise early in the morning for your breakfast which will be prepared for you by your guide. After breakfast will followed with more trekking to a great waterfall where you can take a dip in the cool waters and reinvigorate after the hot mornings trek set off for the short trek to the waiting elephants where you will embark on a hours ride through the jungle and along the river in this beautiful area. Then we will trek out of the jungle take lunch at the Shan village to the waiting transport before embarking on the famous bamboo rafting where you can sit back and relax on the bamboo rafts or try your hand at piloting one yourself down river. The trek will finish when you board the transport for your drive back to Chiang Mai.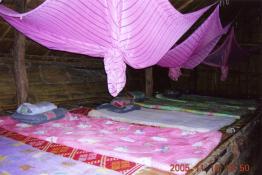 Included
=T.A.T. licensed and English speaking guide
=Transportation by pick up truck
=Lunch: Thai food dish, drinking water exclusive
=Elephant ridding,and bamboo rafting
=Sleeping bags, mosquito nets, life jacket,
=Traveling insurance for
=An accident. Bodily injured coverage is up to 100,000 THB
=For medical expenses. In case of disability or death coverage is up to 200,000 THB
ITINERARY Day 1
=Depart Chiang Mai at 09:30
=Local market visit
=Drive a further to a Shan village
=Lunch
=Short drive to trek start point
=Trek for 30 minutes to a Hmong village.
=Trek for a further 2.5 hours to a Karen Hill tribe
=Overnight at village.

Day 2
-After breakfast trek for 1 hour to elephant camp
=Ride elephants through the jungle and along the river for about 1 hour.
=Trek 1.5 hour to waterfall, stop for lunch and swimming.
=Trek 1.5 hours to truck stop.
=Short drive to bamboo rafting start point.
=Bamboo rafting for about 1 hour
= Return to Chiang Mai around 17:00
What's thing should bring on the trek's
2- T shirt - Mosquito spray
1- Short pants - Sun cream
1- Long Pants first aid kits
1-Towel - pain killer
2- pair of sock - stomach-ache
1- Long sleeve - bandage
1- Pair of slipper - plaster
1- Pair of shoe - antiseptic ete..
- Swim suit
- Soap –Shampoo
- Tooth brush-Tooth paste
p.s.- Should bring some money just for buy some drink or some hill tribe handicrafts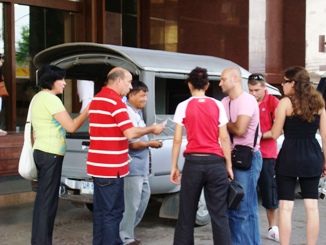 TOURS CHIANG MAI AT SOMBOONTOUR CHIANG MAI
You should travel with the only licensed tourism company to get the lawful protection.
TAT License No. 23 / 0298
Tourism Authority of Thailand
TOURS PRICE Code : CCT 002
**2DAYS 1NIGHT TREK
**JOIN GROUP TOUR ONLY
**PRICE 1,400 BAHT/ PERSON
A Children under 8 years old will be given half price.
INCLUDED ARE: -- RIDING ELEPHANT, BAMBOO RAFTING 1 HOUR/, MEO, KAREN TRIBES, WATERFALL , LUNCH
Itinerary 8:30 - 9:30 a.m. : Pick-up from hotel or guest-house Transfer by local truck. Back to Chiang Mai where you will arrive at about 17:00h.
SOMBOON TOUR CHIANG MAI
Tel. In thailand
08 1980 3221, 08 1111 1176
Office & Fax 053 818 067
Tel. International +66 8 1980 3221
If you would like to go on a private trek or if you have your own group then please just E-mail us.
Email
Note: This information was accurate when it was published, Please be sure to confirm all rates and details directly with the companies in question before planning your trip.
PAYMENTS TOURS
BANK TRANSFER
Name: Ms. Mantana Kuykeaw
.Bangkok Bank Public Co.,Ltd.
Chang Klan Road Branch, Chiang Mai Thailand.
Savings account No
423 056 816 6
23/4 CHAROENPRATHET ROAD (OPPOSITE) PORNPING TOWER CHIANG MAI THAILAND 50100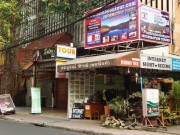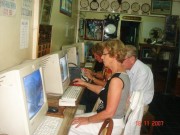 Office... Somboon tour Chiangmai Thailand
INTERNET- SCAN PICTURE -TOURS - FRESH COFFEE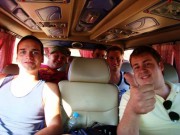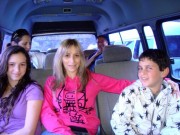 Thailand Tours with Happy Time and Nice Driver of Somboon Tour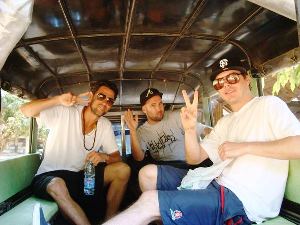 23/4 CHAROENPRATHET ROAD (OPPOSITE) PORNPING TOWER CHIANGMAI THAILAND 50100