Commences: Chiang mai, Thailand

Handicraft Village Borsang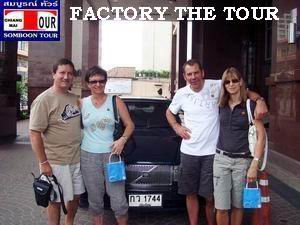 Introduction: Located on San Kamphaeng Road. Bor Sang is dubbed as the Thai handicrafts wholesale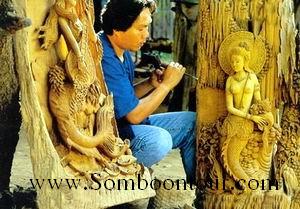 Are you looking for Thai handicrafts and arts?
We can help you find the widest range and get the best deals. The famous Sankamphaeng / Bosang handicrafts Umbrella making Formerly made as offerings to the monasteries, the beautiful hand-made bamboo and paper umbrellas of Bosang are now produced in quantity. Still reflected in the work of the skilled village craftsmen is the sheer beauty of a tradition that began generations ago. In addition to umbrellas and parasols made of sa paper, cotton and silk, many other decorative handicraft items are made featuring the same hand-painted designs and fine skills of the local artisans.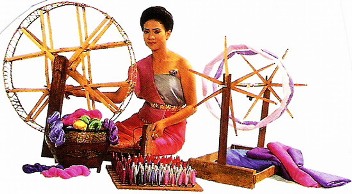 Thai Silk We specialize in manufacturing and exporting of pure hand woven Thai Silk. Thai Silk Village is the place where you can find all kinds of Thai Silk products in classic and elegant designs, and of the best quality. <<THAI SILK VIDEO CLIP>> Silverware Chiangmai is, of course, famous for the quality and profusion of its silverware. World silver markets are presently in resurgence and silver is a great buy nowadays, even modern pieces, lacking the patina of age, appreciate rapidly in value. The ancient Hindu influence also directed the development of silverwork in Thailand but it was very much confined to creating decorative items or ceremonial and religious articles such as trays, bowls and betel sets.we manufacture various kinds of hill tribe silver jewelry such as rings, pendants, bracelets, bangles, necklaces and beads which are our unique designs on top-quality control. Lacquerware Lacquerware is an ancient art form of decorating wooden (i.e.- teak or bamboo) objects with seven layers of black lacquer, providing items with a combination of beauty and practicality. They commonly decorate lacquered objects like handpaintings, handcarvings, and items decorated with eggshells and/or gold leaf. Products Type Lacquer products such as : Lacquer Casket Set, Elephant Figurine, Fishes and Birds Figurines, Coaster Set with Box, Decorating Lacquer Plate, etc. Teakwood carving If you want have Bali Teak wood carving and craft and make your house more beautiful or you have hobby collection of wood carving, i have the quality wood carving and make original from balinese artist Handicrafts Borsang is famous . Furniture Ideal for furnishing your island villa or condo, teak and rattan furniture is popular and we work with many supplier
to offer you a choice of traditional Thai, contemporary and classic styles. Antiques and Art Our culture has a magnificent history of exceptional art to give you home an oriental feel. We can find you genuine investment pieces or affordable reproductions, as well as Thai and contemporary art. Celadon ceramics Celadon ceramics with wood-ash glaze. Every piece is unique, being handmade, and all are created with the finest artistry of the potters, carvers and painters. Most of their production, such as tableware, household products, gifts and souvenirs, is sold to foreign visitors or exported all over the world. Leather In Chiangmai One of the leading manufacturers and providers of gifts, souvenirs and premiums for every special occasion. We offer varieties of high-quality gifts & premiums, designed to your satisfaction, at reasonable prices for every special occasion, souvenirs and premiums for every special occasion.

Your choice! High quality products at factory prices may be purchased. The skilled artisans in this area send their finely crafted products from their homes to these handicraft centers. At each workshop the guide will explain the making of these ancient handicrafts. PLEASE CLICK MORE DETAIL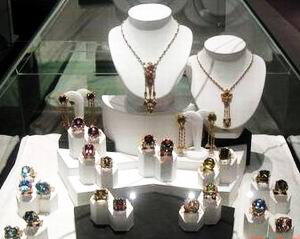 THE WORLDS BIGGEST JEWELRY FACTORY TOUR
The first jewellery store in Thailand that have received the international ISO 9002 and ISO 9001:2000. Gems Gallery is situated in cities, Chiangmai. Has a specific jewellery masterpiece and gems to choose from. Our staffs are willing and welcome to serve you. Chiangmai Industry Information traveler Fashion rubies sapphires tourism shopping made tot world bigges PLEASE CLICK MORE JEWELRY FACTORY
You should travel with the only licensed tourism company to get the lawful protection.
TAT License No. 23 / 0298
Tourism Authority of Thailand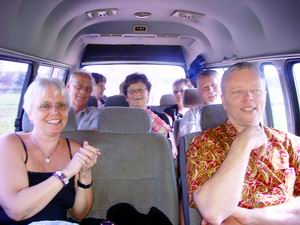 TOURS PRICE Code : HDT 001


PRIVATE TOUR Rent a car
& van with driver + gasoline + insurance included

Four wheel drive 1,200 Baht per 1 car "Car Adventure". air condition service with a driver who has expertise in the path: for 2-6 person rental with driver. (including fuel and insurance).

Van D4D 1,500 Baht per 1 van "VIP style D4D" air condition service with a driver who has expertise in the path: for 4-11 person rental with driver. (including fuel and insurance)(There is no admission fee).

Transfer from / back to your Chiang Mai Hotel
(Daily:About 4 hours 8.30 am - 5.00 pm).
SOMBOON TOUR CHIANG MAI
Tel. In thailand
08 1980 3221, 08 1111 1176
Office & Fax 053 818 067
Tel. International +66 8 1980 3221
If you would like to go on a private trek or if you have your own group then please just E-mail us.
Email
Note: This information was accurate when it was published, Please be sure to confirm all rates and details directly with the companies in question before planning your trip.
PAYMENTS TOURS
BANK TRANSFER
Name: Ms. Mantana Kuykeaw
.Bangkok Bank Public Co.,Ltd.
Chang Klan Road Branch, Chiang Mai Thailand.
Savings account No
423 056 816 6
Thailand Tour with Happy Time and Nice Driver at Somboon Tour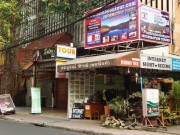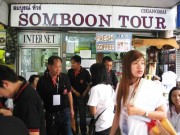 Office... Somboon tour Chiangmai Thailand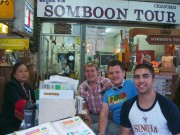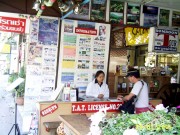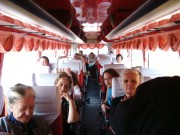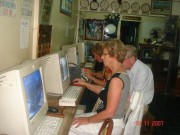 INTERNET- SCAN PICTURE -TOURS - FRESH COFFEE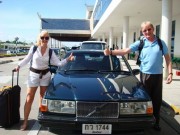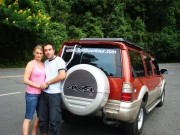 "Thailand Tour with Happy Time and Nice Driver at Somboon Tour"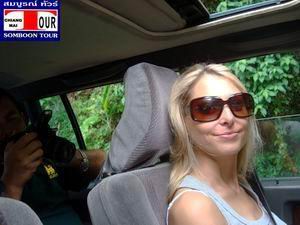 23/4 CHAROENPRATHET ROAD (OPPOSITE) PORNPING TOWER CHIANGMAI THAILAND 50100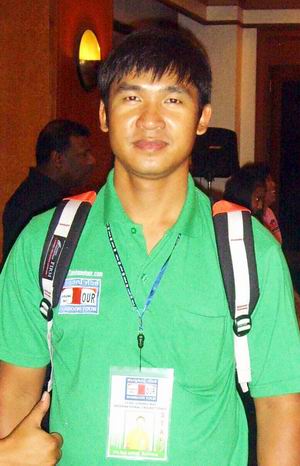 Mr. Apisit Inthaphan
Nice Driver of Somboon Tour
English speaking local driver of somboon tour
For taxi: ÊÁºÙóì·ÑÇÃì (˹éÒâçáÃÁ¾Ã¾Ô§¤ì)¨.àªÕ§ãËÁè
THANK YOU FOR USING
ÀÒÉÒä·Â

THAI VERSION